The Water Hole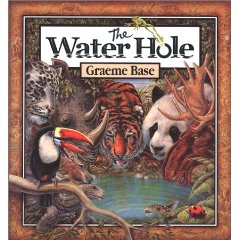 The Water Hole is a delightful combination of a story, art, puzzle and counting book. Beautifully illustrated, it tells the story of a water hole that is drying up and the effects this is having on the animals and plants. Although more attention is given to the animals in this crisis, there are many visual cues about its effect on plants. Throughout the book, Base explores plant and animal life across the continents and each page provides a different opportunity to look at plant collections from various parts of the world. For example, pandas chewing on bamboo forests in China, moose wandering in the sequoia forests of North America and kangaroos sheltering from the sun beneath Australian eucalypts. For those children who love finding hidden pictures, the borders of the pages contain silhouettes of creatures indigenous to each country, with those same animals hidden in the illustrations.

This book depicts water as a precious element that is the key to all life on earth. It can be used to engage early primary children in exploring water conservation plants and gardening, exploring life in or around ponds and wetlands and as a tool for exploring plant collections from around the word.

Review by Christine Joy, Royal Botanic Gardens Melbourne, Australia

Graeme Base, 2001
Harry N. Abrams
ISBN-10: 0810945681
ISBN-13: 978-0810945685

Teaching notes to accompany the book are available here.