Attraction or Distraction?
Number 7 - August 2005
Sarah Dixon
We asked Cultivate readers: "It's not about plants but it's in a Botanic Garden - should it really be there?" From art exhibitions to music concerts, animals to car rallies, do they serve a useful function? Are they an Attraction - or a Distraction?
We got some very interesting results. The clear conclusion was "Attraction!" However, you feel even more strongly that it should relate to plants in some way. Many thought it can be a bit of both.
I want to ensure that Cultivate will improve and flourish in the coming months and years. I'd like to get your feedback so I can continue to improve the bulletin.
Best wishes,
Sarah Dixon
Web Editor
Q1 - Attraction or Distraction?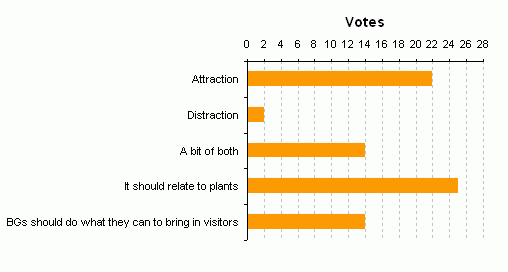 Q2 - How Important is This Issue?
Q3 - The Expertise of the Survey Respondents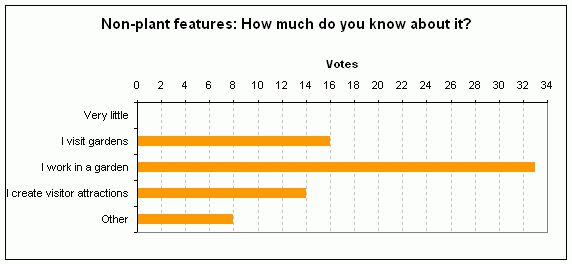 Q4 - The Most Interesting Attraction You've Seen?
Your answers to this ranged from "a compost display at Cambridge Botanic Garden" to "people", to the WEEE man at the Eden Project. In fact, the Eden Project was very popular on this question, this means either they are unusually creative and successful with their ideas, or there were a lot of Eden fans taking the survey (or perhaps both!). See the full list here.
Q5 - What's Your Relation to Botanic Gardens?