BGCI Travel Scholarship Programme 2006 (I)
As part of the HSBC Investing in Nature programme, BGCI travel scholarships were offered to botanic garden staff from Mainland China and Hong Kong SAR in 2003-2006.
The travel scholarships were designed to support closer working relations and linkages between mainland China and Hong Kong SAR botanic gardens. The placement of staff in botanic gardens outside of their region has promoted the sharing of knowledge, and has resulted in collaborative projects to further improve botanic gardens efforts to conserve plants in Mainland China and Hong Kong SAR.
1. Concepts and Techniques for Native Plant Conservation in Hong Kong
Training Location: Kadoorie Farm and Botanic Garden, Hong Kong SAR (KFBG)
Training Course Period: 19 February - 10 March, 2006
(1) Scholarship candidate: Qi Yunzhi, Xi'an Botanical Garden

I am most impressed by KFBG's true respect to nature and every life form, and their application of sustainability in daily life. They do not use any substances that may contaminate the environment such as chemicals, chemical fertilizers and pesticides. They are good at turning rubbish into something useful. Some of the examples include their composting and their usage of scarecrow, old CD's and used tin cans that would generate sounds.
During my trip to Hong Kong, for the first time I saw plants in person that I only knew from photos in the past, eg the "child-bearing" mangrove, artistic plants like Cibotium barometz, Tillandsia usneoides, and Alsophia spinulosa, and also plants with plank root and surface root. I also took many beautiful and valuable photos. After I returned to Xi'an Botanical Garden, I referred these photos as "interesting plants" and displayed these photos in the "Scientific Education Corridor" newly constructed in Xi'an Botanical Garden in 2006. The Corridor has been well received by the general public and students.
Horticulture therapy and arboriculture are rather new topics I learned from this training. To let more people in Mainland China know about these fields, I wrote a feature article titled "Cure Your Health and Mind while Growing Flowers and Other Plants - Interview with Ms Connie Fung, Hong Kong's Chief Registered Horticultural Therapist". This report was published in the front page of "China Floral News" on 8 April 2006 and in the "Xi'an Evening Post" on 19 April 2006. Later I will work on a news article on arboriculture.
Furthermore, this training also introduced me to two more things, namely garden tour methods that combine entertainment and education and informative plant labels. I will apply these two techniques in the public education work in Xi'an Botanical Garden.

Qi Yunzhi giving a presentation
(2) Scholarship candidate: Deng Xianbao, Chongqing Botanical Garden
This training allowed me to learn a lot of new knowledge and techniques. I learned a lot.
I learned about the method of organic farming from the example at KFBG. Here are some examples: putting green manure on the farmland can improve the quality of soil; crop rotation can reduce pest incurrence in vegetable farmland. These measures are good examples that we can learn from when we grow green vegetables.
In KFBG and other gardens in Hong Kong, I can see that the plant labels used to introduce plants are very special. The location of these plant labels is normally not too high, but not many of them are disturbed. When the plant labels are placed onto the tree, the staff made sure that the tree was not harmed. This is something we should pay attention to in our future work. This gesture fully shows people's care for the natural environment.
KFBG's Fern Walk and Butterfly Garden have many guided tour labels for outdoor activities. These labels are very useful for public education in a botanic garden. People can learn from these labels and signs even though they may not be accompanied by a guide. In our botanic garden, we really should try to offer such outdoor guiding labels and signs.
There are more and more people in Hong Kong that love nature and are aware of environmental conservation, such as environmental conservation organizations, private parties and general people in the community. They all work very hard in protecting nature and the environment. For example, I saw in the Kowloon Park that many birds freely flew around publicly accessible places where there were lots of pedestrians. I observed no one disturbing the little creatures. People and wildlife can exist harmoniously. This shows that their awareness in environmental conservation is quite high.
In addition, I learned some other things, such as the teaching method in the Ocean Park, the method to know plants as shown by the Shing Mun Arboretum. I will definitely apply what I learned in my work and make contributions to the extension and development of Chongqing Botanical Garden!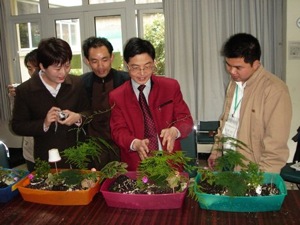 (3) Scholarship candidate: Gao Puxin, Lushan Botanical Garden, CAS

For me, the six major points of the training are: the role of botanic gardens in native plant conservation; the design and management of a herbarium, as well as the record maintenance of specimen records; local orchid conservation and measures of orchid conservation; medicinal herb garden - the tradition of plant resource and sustainable use of such resources; KFBG's environmental education; visit to Endangered Species Resource Centre, Chun Tok School and New Life Farm. I am most impressed with the visit to the Endangered Species Resource Centre, Chun Tok School and New Life Farm. These visits let us see the concern of KFBG and its staff on social problems and the education to those with special needs.
Parts that are rather new to me: arboriculture, horticulture therapy, design and management of a herbarium, record maintenance of specimen records, measures of orchid conservation, and the public education work of KFBG. I learned much new knowledge. Arboriculture and horticulture therapy are two new aspects that I have never encountered in terms of work or education. KFBG's public education work was done very well. It is enlightening. In particular, we would learn from interactive teaching approach and their attempt to arouse creativity among the youth. Measures of orchid conservation, design and management of a herbarium, and record maintenance of specimen records are the aspects most related to my current work. Specifically, seed sterilization, seed propagation and hardening techniques and measures used in rapid orchid propagation process can be adopted by Lushan Botanical Garden in its native orchid conservation and the recovery of wild orchid population. Specimen production, sterilization, humidity prevention, and pest removal / prevention can be adopted in the design and management of the herbarium at Lushan Botanical Garden.
There are 3 specialized topics that helped trainees a lot, namely using constructive species in ecology recovery, measures of orchid conservation, and environmental education in botanic gardens. KFBG's staff all have a keen attitude and are hard working. All of them are exceptionally capable, professional and loving. They set a good example for us.
In short, this training let me learn a lot of things. My scope is wider after the training. This experience will give me reference and guidance for my future work.

Interactive learning environment
(4) Scholarship candidate: Peng Yude, Guangxi Botanical Garden of Medicinal Plants

After this training, I now have an understanding of these aspects: The advanced concept and humanity percept in Hong Kong - people respect each other and they respect nature; they encourage the value system of sustainability, promote a sustainable lifestyle. A new model of environmental education - people are encourage to first-hand experience the joy of being close to nature. Measures in orchid conservation - the use of advanced propagation techniques can effectively conserve orchid plants. Effective management of herbarium specimens - a digital system is used. When I return to Guangxi Botanical Garden of Medicinal Plants, I will give my colleague a report to share what I learned from this training in Hong Kong. I will also what I learned into my current work. I will use propagation methods such as tissue culture and arrange an environment similar to native habitats, so that orchid conservation can be improved. I will respect nature with real actions.

Performing DNA extraction experiment in The University of Hong Kong
(5) Scholarship candidate: Zeng Zhixin, Hunan Forest Botanical Garden
I had an initial understanding of the history of Hong Kong culture and plant conservation. A good understanding of local historical culture is the only way to effectively conserve native plants and the environment. Comprehensive laws and regulations are essential to implement conservation and control people's behavior. Botanic gardens should have their own regulations and mechanisms, such as entrance notice for visitors. A botanic garden should let all visitors know about the entrance notice, which should have a binding force to control visitors' behaviors in the botanic garden.
I had an initial understanding of natural conservation system and measures in Hong Kong. In order to conserve local natural and ecological environment, it is necessary to setup a conservation system and network that considers native flora and fauna conditions and different types of habitats. Only this approach can cater for the needs of different aspects and give complement each other.
I had a better understanding on the role of botanic gardens in native plant conservation. Botanic gardens are an important venue in ex-situ conservation. Botanic gardens are also the base for plant collection, plant maintenance, propagation and localization. To have a botanic garden with good facilities, management and operation, relevant scientific knowledge and sufficient funding are both needed. Currently many botanic gardens in mainland China do not have sufficient funding. The completion of their goals seems to be more meaningful.
My first impression of visiting KFBG is their unique management and operation concept: a harmonious relationship between human and the environment. KFBG was setup in 1951. It has an area of 150 hectares. It used to be an abandoned hilly area. Now it has abundant foliage with rich plant diversity. It is the result of the hard work of several generations. They all respect the rights of the environment and work hard to restore the original appearance. In doing so, they paid much attention to the harmony between human and nature, thus KFBG is a botanic garden that gives people a peaceful feeling. It sets an example for us when we build botanic gardens.
I visited Hong Kong's major botanic gardens and parks. While their education facilities are very comprehensive, they also have detailed planning and organization. These are things we should learn from. Hong Kong in general, and its parks, have very good facilities and offer a wide range of educational topics. Visitors are offered convenient learning opportunities and rich content. People can learn while enjoying themselves. The signage, well designed and produced, provided visitors with detailed information about the species name, distribution, characteristics and uses. Such knowledge is beneficial to visitors. Because of this, we should reinforce our work on signage, so as to improve our role in providing environmental education.
Exchange among students let us know more about our respective botanic gardens.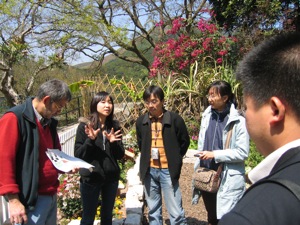 (6) Scholarship candidate: Zhao Fang, Beijing Teaching Botanical Garden

The 3-week training included a 2-week general course in "native plant conservation in Hong Kong" and a 1-week specialized research on "environmental education work of botanic gardens". For me, the most exotic part of this training is that every conservation project was taught through scientific presentations and site visits. This teaching format is attractive and informative.
The most impressive aspect of the Hong Kong native tree conservation project was native orchid conservation. KFBG's work in native orchid conservation has surpassed traditional conservation methods, and KFBG has been actively involved in orchid conservation projects in the South China region. Apart from paying close attention to the survival and distribution status of wild orchids in South China, KFBG actively participate in activities that can improve the living standard of the general public living within the orchid distribution range. On the foundation of excellent ex situ orchid conservation, KFBG actively share their research and conservation techniques with other parties. This helps much in achieving the goal of sustainable use of orchids.
The specialized research on "environmental education work of botanic gardens" let me learned a lot. KFBG launches various kinds of attractive activities, each showing a distinctive theme. Being able to learn more about these activities is very helpful for my work in environmental education. These activities also gave me many ideas in my future work. My scope has widened because of the visit to sites of environmental education resources such as the Ocean Park, Kowloon Park, Hong Kong Park, Hong Kong History Museum, and the Science Museum. These visits gave me new methods and new ideas for my future work. Once I am back to Beijing, I will share these ideas and approaches with my colleagues at Beijing Teaching Botanical Garden.

A presentation given by Gloria Siu at KFBG
(7) Scholarship candidate: Cheng Hongmei, Hefei Botanical Garden

Through this training and exchange with various experts and other scholarship trainees, I gained a lot. KFBG's advanced achievements in conservation, environmental education, sustainable lifestyle promotion, biodiversity conservation in Hong Kong and its neighboring regions, and scientific research gave me a lot of insights, particularly KFBG's use of seedlings from its native tree nursery in vegetation recovery and their efforts in maintaining biodiversity.
The important point is that this training allowed me to more thoroughly understand the indispensable role of botanic gardens in the sustainable development and biodiversity conservation in local communities. The role of botanic gardens in these aspects is both long-term and important. Although a botanic garden plays three different major roles in landscape display, scientific research and scientific education, the focus of the botanic garden will be different in different stages of development. However, these three roles are not contradictory to each other; instead, they help to enhance each other's advancement. The reason why these three roles must complement each other is that they all work toward ecological conservation. The conservation and use of biodiversity, as hot global topics, should be the core of botanic garden work and the intrinsic nature of botanic gardens.

Giving a presentation
(8) Scholarship candidate: Feng Changlin, Guangxi Karst Arboretum, Experimental Centre of Tropical Forestry, Chinese Academy of Forestry

I learned knowledge on six aspects, namely seed storage, tree conservation and horticulture application, organic farming and horticulture promotion, fern conservation, orchid conservation and theories of population genetics, and KFBG's dedication to leading an environmentally friendly and sustainable lifestyle. The training covered both theories and site visits. The whole learning process was not overly demanding and pleasant. This training gave me a more comprehensive understanding of the plant conservation status in Hong Kong and the culture in Hong Kong. I also had a better understanding on KFBG's advocacy of creating a world without any environmental crisis. This 3-week period deeply impressed me with KFBG's spirit and mission. I will bring KFBG's spirit to Guangxi Karst Arboretum, and will work towards creating a world without any environmental crisis. Apart from applying what I learned in vegetation recovery in the Guangxi karst region, I will also use orchids having medicinal value in the Orchid Nature Reserve in Yachang, Guangxi, so that it can become a large-scale orchid production site. Orchids from this site will make significant contribution to the ecological recovery in ecologically weak regions in Guangxi and help to enhance economical development. This training was both exciting and enjoyable. The learning process helped to reinforce my connection with and understanding of KFBG, as well as the cooperation among other trainees.

Feng Changlin, left, studying plant specimens at the Hong Kong Herbarium, together with the Director of Herbarium to the right.
2. Education Programmes, Interpretation & Living Collections Management
Training Location: Hong Kong Zoological and Botanical Gardens, Hong Kong SAR (HKZBG)
Training Course Period: 20 - 24 March 2006
(9) Scholarship candidate: Deng Lunxiu, Guizhou Institute of Forestry Research
The content of this study trip is closely related to my work at the Guizhou Institute of Forestry Research. I gained a lot from this program. I am happy that during my studies, I joined two student visits. One of which is at the Kowloon Park, where the management staff of the Green Education and Resource Centre led a group of P.4 students to learn more about different tree species. When they walked pass an old Chinese banyan tree whose roots were infected with some kind of bacteria, some management staff were trying to do maintenance work to that tree. The guide then grasped the opportunity to teach the students how to protect and care for plants and the environment. For the second time when I joined a group tour, it was at the HKZBG. The staff of HKZBG was trying to teach P.4 students about animals, particularly insects. While the teacher lucidly explained faunal knowledge, students were encouraged to touch animal specimens so that they could have a first-hand experience about the appearance, physical characteristics and structure of the insect. The teacher also offered a sudden quiz for the students, and the students were eager to answer. If the student answered correctly, there was a small prize to encourage them. It was a good example where students could learn new things in a happy environment.
What I learned is very valuable and useful for my future work in plant collection and conservation of germplasm resources to be used in the Arboretum, Seed Bank, Bamboo Garden, Orchid Garden and Guizhou Wild Woody Plant Garden. In particular, I learned a lot from how to use our existing public education facilities to make full use of the advantages of Guizhou Institute of Forestry Research in plant germplasm collection and preservation and the geographical advantage of my Institute, so as to foster more forestry and ecology publicity and education activities and to play the socially important role of an Institute of Forestry Research properly.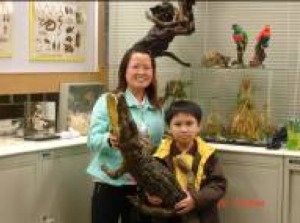 3. Conservation Biology of Ornamental Plants of Yunnan
Training Location: Kunming Botanic Garden
Training Course Period: 11 - 26 July, 2006
(10) Scholarship candidate: Alice Hui, Kadoorie Farm and Botanic Garden

My goals for this training workshop are: 1. to enrich and deepen my botanic knowledge in Ornamental Plants, 2. to gain practical experience in plant propagation and re-production to enhance my work skills in nursery, 3. to learn how to conduct the plant introduction, cultivation and ex-situ conservation in terms of Plant Conservation Biology. And to me the most important task of this training is to establish the collaborative relationship with the Kunming Botanical Garden in work level and communication.
Throughout these two weeks' training in KBG, I was exposed to a wide range of Ornamental Plants of Yunnan. I had learnt lots of different species of ornamental plants and some of them cannot be found in Hong Kong.
This is a great chance for me to broaden my knowledge in ornamental plants and give me the insights in the way to make selection and introduce the species in my future work.
Meanwhile, through the practical workshop in nursery, I had gained the most first hand information and unique techniques in plant propagation and reproduction from the tutors Mr. Ying and Mr. Fung, who is in-charge of the Camellia Garden and showed me the traditional method in asexual reproduction in Camellia.
That helped me a lot as to how to maintain and preserve our Begonia species in KFBG. Because of my background, I am most interested in the greenhouse facilities and management.
By sharing with Mr. Huong, in-charge of the greenhouse, the biggest challenge for KBG to run the greenhouses is to maintain the temperature against the "energy saving". Through the visitation, we had compared, discussed and exchanged lots of experience in how to operate the greenhouse in warm climate and cool climate. That gave me quite a lot of useful idea to deal with the problem on how to operate and manage the greenhouses in KFBG.
Furthermore, the most important task I did work out was to have established the linkage and the closer working connection to the Kunming Botanic Garden in both the work level and communication. During this learning period with different tutors, I am deeply impressed by their experience and their botanic knowledge. They are very friendly, helpful and willing to share their unique work experience. I really enjoyed the learning process with all the tutors. Besides, because of this special opportunity, the KBG also applied an entrance permit for me to visit the biggest Auction Flower Market in Asia – The Kunming International Flower Auction - "Dounan Flower Market". At the end of the training, a Power Point Presentation - Introduction of KFBG was given to the KBG's Professors and staff on 25 July 2006. And something really out of my expectation was, I was given the honourable chance to attend the Conference of International Symposium on Biodiversity and Biogeography in East Asia, 14-15 July 2006 organized by the Kunming Institute of Botany, Chinese Academy of Sciences. This is my first time to attend such a high level conference in this industry. It helps me to have better understanding in protecting and preserving our natural environment.
As a conclusion, this Travel Scholarship Training Programme not only provides me a great opportunity to increase my professional work skills, but also enhances my botanic knowledge. I am happy to see that my knowledge of Plants Conservation had been broadening extensively through this BGCI training.

A Post-training Report of BGCI Travel Scholarship Programme 2006 Power Point Presentation was presented on 29 Aug 2006 at KFBG to summarise what I learnt at Kunming Botanic Garden.
(11) Scholarship candidate: Aaron Liu, Leisure and Cultural Services Department
The major research objects of Kunming Botanical Garden are conservation biology, introduction and cultivation of ornamental plants, traditional Chinese medicinal plants, important trees, rare and endangered plants of SW China.
Its objectives reminded me that we should use native plants in our Landscape Design so that the design could be introduced the beauty of native into our environment. In addition, native plants could easily be adapted to the climate and less pesticide and fertilizer would be applied that would reduce the maintenance cost and increase the survival rate. Hong Kong and Southern China have a wide range of colorful native plants, such as Rhodomyrtus tomentosa and Aquilaria sinensis that were widely planted a at our county parks but we seldom use scientific method to cultivate these species in large scale to make it more cost effective.
I gained new knowledge through training, experience sharing, seminar and study at the garden that assist me in my work in planning and implementation of new ideas especially the message from the Asia Biodiversity International Conference.
The most useful is I learnt that landscape improvement work should focus on ecology, biology and culture towards a harmony society.