China
> Investing in Nature China Comes to a Close
Investing in Nature China Comes to a Close
Investing in Nature programme in China comes to a close


In 2002 HSBC Group, one of the world's largest financial services organizations, made the largest single corporate donation to protect the environment with the creation of a five-year eco-partnership known as Investing in Nature.
Through this partnership, HSBC made major contributions to the efforts of three international conservation organizations: WWF, Earthwatch and BGCI.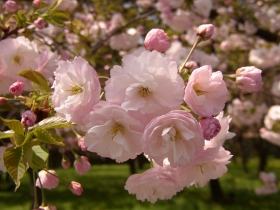 With this funding BGCI has been able to greatly expand its international conservation, education, and public awareness programmes in an effort to secure the future of plant diversity for people and the planet.
The China programme from 2002-2007 was a product of the Investing in Nature partnership.
BGCI is committed to maintaining and developing its regional and in-country programmes wherever possible.
In 2007 and onwards, the China programme will continue to serve the plant conservation and education needs of Chinese botanic gardens.
For example, the training scholarship will continue to be offered – so keep posted to this site for new announcements and news.
Contact details:
Botanic Gardens Conservation International
Descanso House
199 Kew Road
Richmond
Surrey
TW9 3BW
UK
Tel: +44 (0)20 8332 5953/4/5
Fax: +44 (0)20 8332 5956
Email: info@bgci.org

BGCI Projects in Hong Kong

BGCI Projects in China
BGCI has been working with botanic gardens for plant diversity in China for the past five years, under the auspices of HSBC's Investing in Nature programme.