Plant Conservation in Canada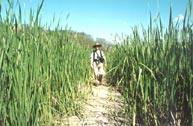 Botanical experts suggest that close to one third of the vascular plants on earth are threatened with extinction in the next 30 years unless action is taken to protect them. This is so urgent that the United Nations Convention on Biological Diversity adopted a Global Strategy for Plant Conservation in 2002, to try to stem the tide of plant extinction.

The situation in Canada is also urgent. Approximately 3,200 species of vascular plants have been identified that are native to Canada. Botanists estimate that we have about 150 endemic species (those found only found in Canada). In 1990 the Canadian Museum of Nature classified about 1000 of our native plants as rare. While many of these rare plants are more common elsewhere in North America, the biodiversity of our natural habitats in Canada depends on survival of plant populations adapted to our climate and environmental conditions. Protecting local biodiversity and genetic variation within each species are therefore also important to the conservation of plants and their habitats. In addition, Canada's biodiversity hotspots (Southern B.C., Southern Ontario and Southern Quebec) are also attractive places for human settlement, agriculture and industry. This has resulted in development and land use patterns in these areas that directly compete with natural habitats.

The Committee of the Status of Endangered Wildlife in Canada currently lists 150 species of plants at risk of extinction in Canada and is assessing or monitoring the status of an additional 500 species. Each province is also responsible for assessing species status, monitoring and conservation on a provincial basis. Many of our listed species are found naturally in the "biodiversity hotspot" areas precisely because people have altered the natural habitats to the point where survival of some plant species is threatened.

Conservation activities at Canadian botanical gardens, arboreta and related institutions vary. While there are between 70 and 100 Canadian botanical gardens, arboreta and related facilities that maintain plant collections and are open to the public, not all of these have a scientific basis for their collections or thorough documentation. Nevertheless, as places of botanical expertise, many of these institutions are participating and collaborating on a variety of conservation projects and efforts.

If you have something you would like to contribute, please contact us (yannvergriete@fastmail.fm).
Examples/ Garden profiles
Assiniboine Park Conservatory
Columbia Valley Botanical Garden
Devonian Botanical Garden
Gardens of Fanshawe College and the A.M. (Mac) Cuddy Gardens

Harriet Irving Botanical Garden
Memorial University Botanical Garden
Montreal Botanical Garden
Morgan Arboretum
Niagara Parks Botanical Garden and School of Horticulture
Reford Garden/ Mitis River Park
Royal Botanical Gardens
University of Guelph Arboretum
Toronto Zoo
UBC Botanical Garden
Assiniboine Park Conservatory


working with Environment Canada's CITES programme, providing haven for seized plants, primarily orchids and cacti

For more information www.winnipeg.ca/cms/ape/conservatory/conservatory.stm

Columbia Valley Botanical Garden


Grassland restoration research
Agriculture Canada's Plant Gene Resources of Canada rare food plant seed grow out
In-situ conservation of the rare Rocky Mountain Trench Grassland ecosystem containing red listed species Ex-situ native plant beds

For more information www.conservancy.bc.ca/CVBG

Devonian Botanical Garden


actively involved in rare plant inventories and completing COSEWIC status reports
member of the recovery team for Haller's apple moss (Bartramia halleriana)
working with local First Nation's group on preserving traditional botanical knowledge
leading Alberta's Plantwatch project and partnering on Canada-wide Plantwatch programme
host micro-fungal research collection and herbarium

For more information www.discoveredmonton.com/devonian

Gardens of Fanshawe College and the A.M. (Mac) Cuddy Garden. For more information: http://www.fanshawec.ca/EN/htn1/program/next.asp

Harriet Irving Botanical Garden
Volunteer group researches and experiments with propagating native plant material for home garden use to reduce harvesting from native populations
Partner on Salt-marsh restoration project in NB
Collaborating on the Flora of PEI
Involved with completing COSEWIC status reports
Participating on the Atlantic Coastal Plain Flora Recovery Team

In Co-operation with Faculty of Science at Acadia University:

Phytoremediation research
Climate change research on plant interactions with elevated CO2 levels
Conservation genetics research on Coastal Plain flora
Systematic research on Ericaceae family

For more information botanicalgardens.acadiau.ca/