RBG Reaches Out to Ontario, Canada, and the World
15 January 2007
From Barb McKean, Royal Botanical Gardens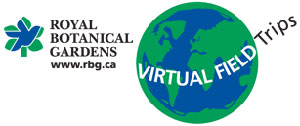 Technology is about to take Royal Botanical Gardens, Canada far beyond its boundaries. Our new Outreach program will use interactive videoconferencing technology to bring students from anywhere to the Gardens through virtual field trips. This technology will allow our staff to connect with interested groups, schools and collaborative partners all around Ontario, and beyond.

Virtual field tripping has been used to enhance and extend curriculum in the United States for several years. Many museums and cultural organizations there offer a range of experiences to students world-wide. While Canada has been slower to act, some provinces are moving in the same direction, especially Alberta.

RBG's new Outreach Education Coordinator started this fall. Karin Davidson-Taylor is very enthusiastic. "Not only does this let us reach schools around the globe, but we can also share our amazing public programme with other partners. Science and Conservation staff will be able to collaborate with scientists from other countries and we can also bring in outside experts for programmes here at the Gardens. We have observed videoconferencing with amazing levels of interactivity, from programs being delivered underwater by a scuba diver, to students in Alberta driving a remote-controlled camera through a shark tank in a Florida Aquarium. The possibilities are mind-boggling."

Ontario's Trillium Foundation is funding this three-year program, which will launch its first field trips in mid-March. Watch http://www.rbg.ca/pages/evirtualfieldtrips.html for details.