The 2010 Challenge for Botanic Gardens
CANADA
16 June 2006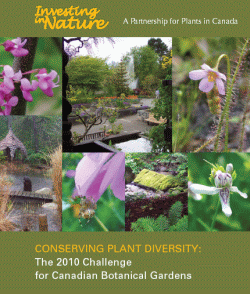 A call to action for Canada's gardens

Conserving Plant Diversity: the 2010 Challenge for Canadian Botanical Gardens reviews the progress on plant
conservation and education related to sustainability by botanical gardens, places the International Agenda for Botanic Gardens in Conservation and the Global Strategy for Plant Conservation into context, and indicates how Canadian gardens can contribute to achieving the 19 targets of the North American Strategy for Botanic Gardens in Conservation.

This update to the 2001 A Biodiversity Action Plan for Botanic Gardens in Canada provides a framework for planning the next five years of conservation and education projects by the Canadian botanical gardens community.
The 2010 Challenge is now available as a PDF download.
In a world which is experiencing economic and population growth there is also continuing disparity between rich and poor and increasing pressures on natural areas and biodiversity. Although the alleviation of poverty has been a serious concern for many years there also has been little attention paid to linking natural living resources and sustainable economic improvement. That situation is changing. In 2005 a major report entitled The Wealth of the Poor made the case that biodiversity is the primary resource of the majority of people in developing countries. Not only is biodiversity the source of daily nutrition, fuel and raw materials for trade for many; it is the only resource many can use to improve livelihoods and well-being.

Linking conservation and sustainable use to improve wellbeing is not new. Several international agreements provide ample reasons for both governments and nongovernmental organizations to pay attention to plant conservation and sustainable use. These agreements, the International Agenda for Botanic Gardens in conservation, the UN's Millennium Development Goals (MDG), the CBD's GSPC, and the North American Strategy for Botanic Gardens in Conservation, all bring renewed attention to the unique role of plants and plant conservation in the early years of the twenty-first century. These broad goals at the international level focus attention on the plight of developing nations, and on the value plant diversity holds for all humanity. As we examine the ways that Canadian gardens can contribute to conservation and improvement of human well-being, it's also worth remembering that within Canada there are communities that directly rely upon local biodiversity for many cultural, medicinal and nutritional needs.