Travelling Exhibit - "Have You Thanked a Plant Today?"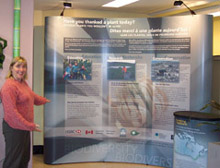 Approximately 134,000 people across Canada have seen our exhibit about biodiversity at botanical gardens since it was produced in 2005. The exhibit has been hosted by 18 gardens, arboreta and museums and has also been displayed at regional, national and international conferences. Feedback has been really positive and many hosting institutions have suggested that we create more small-scale exhibits about specific aspects of plant conservation to share with one another.
Although the Investing in Nature: A Partnership for Plants in Canada programme is over, the exhibit is still available for general display, special events and workshops. UBC Botanical Garden and Royal Botanical Gardens are storing the exhibits and will loan them out upon request to institutions willing to cover the cost of shipping. The free-standing 8'x10'exhibit collapses into one 60 x 30 x 90cm plastic carrying case weighing 32kg; shipping by ground transportation is quite affordable and takes 2-5 business days. When hosting the exhibit, why not set up an accompanying activity station with the activity sheets available below?
For bookings, please contact:
Western Canada: UBC Botanical Garden – contact Ingrid Hoff, 604-822-5892
Eastern Canada: Royal Botanical Gardens – contact David Galbraith, 905-527-1158 ext 309
View the poster copy of the exhibit: Biodiversity Poster (PDF, 562KB)
Biodiversity Activity Sheets:
Primary:
- Biodiversity All Around (PDF, 1MB)
- Thank a Plant (PDF, 1.7MB)
Junior:
- Fascinating Flowers (PDF, 626.3KB)
- Canada's biodiversity (PDF, 1.9MB)
Intermediate:
- Biodiversity Word Search (PDF, 503KB)
- How to Help Biodiversity (PDF, 493KB)