Canada
> Welcome to BGCI Canada
Welcome to BGCI Canada


Introduction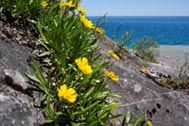 Biological diversity is of vital importance for the health and well being of all life. Yet natural habitats are being destroyed at an alarmingly accelerated pace, threatening the source of the diversity on which we depend. In protecting biodiversity, the importance of plants must not be overlooked. With the ability to harness energy from the sun and produce oxygen, plants are the basis of life on earth.
To adequately protect plants and their habitats, conservation efforts and public awareness of these efforts must improve. Canadian Botanical Gardens host over 4.5 million visitors per year and are important science and educational facilities, providing leadership in plant conservation and public education.
Project Description
Investing in Nature: A Partnership for Plants in Canada programme came to an end after four-year of activities (2003 to 2006). The mission of Investing in Nature: A Partnership for Plants in Canada was to build a Canadian network to increase public awareness of the importance of plants, the threats they face, and the actions needed to protect them. Through the course of this project we developed several educational resources, enhanced plant conservation and biodiversity education efforts and linked Canadian botanical gardens to international conservation and environmental education networks (read more details in The 2010 Challenge for Canadian Botanic Gardens).
Thank to the Department of Canadian Heritage's Museum Assistance Programme and to Botanic Gardens Conservation International, the work undertaken under Investing in Nature: A Partnership for Plants in Canada has progressed to a new step. Our new mission is to produce a guide to support outreach efforts of Canadian botanical gardens, museums and zoos related to plant conservation. This National Outreach Resource Guide to Plant Conservation and Biodiversity Education will gather existing expertise from our partner institutions to create a Website to be launched by the end of 2007. This Website will be hosted by the Canadian Botanical Conservation Network (CBCN) and will be available to CBCN members.
If you are interested in contributing to this guide or if you require more information, please contact me at yannvergriete@fastmail.fm.
What's New
International Agenda for Botanic Gardens in Conservation
The International Agenda for Botanic Gardens in Conservation is a global policy framework for botanic gardens world wide to contribute to biodiversity conservation. To date, 21 Canadian institutions have registered their commitment:
Assiniboine Park Conservatory
Calgary Zoo and Botanical Garden
Canadian Museum of Nature
Columbia Valley Botanical Garden
Jardin botanique de Montréal
K.C. Irving Environmental Science Centre & Harriet Irving Botanical Gardens
Living Prairie Museum
Memorial University of Newfoundland
Milner Gardens and Woodland
Montreal Biodome
Morgan Arboretum
Musée de la nature et des sciences
Musée du Château Ramezay
Niagara Parks Botanical Garden and School of Horticulture
Reford Garden
Roger-Van Den Hende Garden
Royal Botanical Gardens
Sherwood Fox Arboretum
The Arboretum, University of Guelph
Tofino Botanical Garden
Toronto Zoo
University of Alberta Devonian Botanic Garden
UBC Botanical Garden and Centre for Plant Research
University of Montreal
Vandusen Botanical Garden
For more information and to download agendas and registration booklets visit the BGCI International Agenda page
Sponsors/Commanditaires
Partners/Partenaires


Botanic Gardens: Using Biodiversity to Improve Human Well-being
A report has been launched by BGCI on the role of botanic gardens in using plant diversity to improve human well-being. It features case studies from botanic gardens around the world and is available to all in PDF format.