Welcome to BGCI Argentina

A Partnership for Plant Conservation in Argentina
Investing in Nature - Argentina was a partnership between HSBC,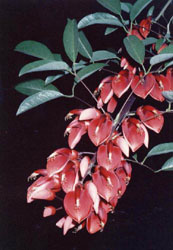 BGCI and the Argentina Botanic Garden Network (RAJB), that ran from March 2004 - June 2007 to support the conservation of indigenous Argentine plant species, particularly threatened species. The 3 year programme strengthened the RAJB and its member gardens by:
training over 60 people in botanic garden management, plant conservation and environmental education,

developing 3 botanic garden model projects which will produce materials and resources to be used by the network,

supporting 9 gardens through Education for Conservation Grants,

supporting education programmes and activities for more than 35,000 children,

supporting the Worlds' First National Botanic Garden Day in 2005, when Argentine botanic gardens hosted 20,000 visitors,

formulating a National Botanic Garden Action Plan, for local and community botanic gardens,

working with over 450 individuals on community sustainability programmes.
This programme assisted the Argentine botanic gardens to implement the International Agenda for Botanic Garden in Conservation.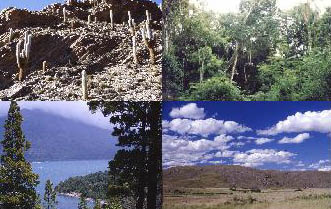 With heights that range from sea level at the Atlantic coast to almost 7,000 m (22960 ft) in the Andes, an approximate area of 4 million square kilometres and a latitude extension from the Tropic of Capricorn to the Southern el Pole, Argentina presents a wide variety of habitats, climates, species and cultures. The vegetation types comprise subtropical moist broadleaf forests, temperate coniferous and rainforests, dry forests, savannas, subtropical and temperate grasslands, steppes and shrublands and montane dry grasslands and shrublands.
According to recent estimations, nearly 10,000 different plants species grow naturally in Argentina, of which approximately 20% per cent are endemic. Many of these plants are under the threat of extinction for a wide range of reasons.
As part of the Investing in Nature programme, the Botanic Gardens of Argentina developed an Action Plan to coordinate efforts to save these threatened plants, provide green havens in busy cities and promote awareness of the environment and the importance of plants in our everyday lives.
Find a Botanic Garden in Argentina
The mission of BGCI is to mobilise botanic gardens and engage partners to secure plant diversity for the well-being of people and the planet. For more information please visit "What We Do"
Our web site is continually under development. We welcome your feedback and/or contributions, please contact argentina@bgci.org

 
Latest News
PERU
1 October 2007
Los peruanos son conscientes de la pérdida de biodiversidad, pero no identifican los problemas y necesidades relacionados con ésta y no saben cómo podría contribuir a mejorar su calidad de vida.
ARGENTINA
24 November 2006
After three years of team work, the Argentine Botanic Garden Network (RAJB) with the support of Botanic Gardens Conservation International-BGCI, through the Investing in Nature Programme, has developed an Action Plan to contribute to the achivement of the Global Strategy for Plant Conservation.