Namibian Garden's Desert Success
NAMIBIA
17 September 2007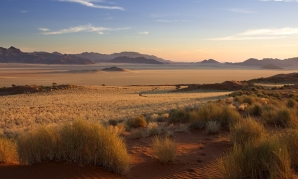 The Namib Desert is a unique environment
with many threatened plants
Image © Woshitz.net
The National Botanical Research Institute in Namibia has just opened a new Desert House, featuring over 200 species of rare and protected desert plants from the southern and central Namib and the Sperrgebiet. The plants include summer and winter bulbs, aloes, stone plants, terlagoniums, Bushman candles, pachypodium and crassulas.

The plants cannot be grown anywhere else in the Botanic Garden because they need to be protected from rain during the summer months, frost during winter and the marauding rock hyraxes that make their home in the garden.
Offical Opening
The Desert House was officially opened in September by the Deputy Director for Training in the Ministry of Environment, Johanna Andowa.
Andowa acknowledged the Desert House's vital role in environmental education, by creating appreciation and awareness of Namibia's indigenous plants among Namibians and tourists alike.
"Desert House provides an opportunity for Namibians and tourists alike to see some of these plants without having to travel great distances to remote places," said Andowa.

Troubled History

The happy event comes after a difficult birth. The very existence of the Desert House was at times in doubt as the garden struggled to keep up with the costs of the project.
But a range of mining and engineering companies came to the rescue, supplying much of the 23 tons of rocks and six tons of sand required to complete the project, which took three years.
Plants were also retrieved from commercially owned sites, until the unique Namibian desert environment was recreated in the Desert House.
Rocks to the Rescue
In 2004, VKE - an engineering company working on upgrading the road between Aus and Rosh Pinah - heard of the institute's problems and offered to deliver a consignment of desert rocks to the garden in Windhoek.
However, the ten tons of rock was soon used up and a large area remained to be landscaped.
Roessing Uranium then came on board and offered another load of rocks, which was delivered last November.
The third consignment came from the uranium-mining company UraMin in July this year.
Sand was sourced from a farm south of Windhoek while plants were obtained from the Scorpion Zinc Mine and the NamDeb mining concession area.