New National Botanical Garden for South Africa
SOUTH AFRICA
11 September 2007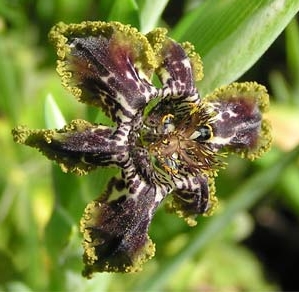 Ferraria crispa subsp crispa, one of the many
rare plants secured at the Glenlyon site
Image © Renosterveld Trust
Marthinus van Schalkwyk, Minister of Environmental Affairs and Tourism, is proud to announce the establishment of South Africa's ninth national botanical garden on the outskirts of Nieuwoudtville in the Northern Cape, South Africa.
The new garden, to be established on the farm Glenlyon, comprises over 6,300 ha of land on the Bokkeveld Plateau, and is world renowned for its incredible diversity of bulbous plants. Some 40% of the flora comprises bulbs that create spectacular displays in autumn and spring each year. The Garden also comprises large natural patches of renosterveld fynbos and succulent karoo vegetation.
Biodiversity Hotspot
Some 1,350 plant species have so far been recorded on the Bokkeveld Plateau, including 80 range-restricted or endemic species (6% of the flora). Almost a third of the species endemic to the Bokkeveld Plateau are threatened with extinction. Due to the incredible diversity and density of bulbs, Nieuwoudtville's biodiversity is of international significance and it is often referred to as 'the bulb capital of the world'.
"The new national botanical garden in Nieuwoudtville in the Northern Cape will provide an important conservation area which will be used by SANBI to promote nature-based tourism, the conservation of the area's unique biodiversity, environmental education opportunities and long term ecological research in this botanical hotspot of global significance." the Minister said.
The purchase of the farm Glenlyon was made possible through generous funding provided by the national Department of Environmental Affairs and Tourism (DEAT), Conservation International (CI) through the Global Conservation Fund (GCF), and the Leslie Hill Succulent Karoo Trust through the World Wide Fund for Nature (WWF, South Africa).
Focus on Research, Conservation & Education
The new Nieuwoudtville National Botanical Garden plans to be open to the public in January 2008 and will serve as a centre for biodiversity research in the Succulent Karoo region and Bokkeveld Plateau. Focus will be on promoting long-term ecological research, conservation, nature-based tourism and education relating to the region's biodiversity, working closely with local and regional stakeholders, bioregional programmes, conservation agencies, universities and museums. The official launch of the botanical garden project took place on the farm Glenlyon outside Nieuwoudtville on Tuesday 28 August 2007.
Legacy of Conservation Pioneer
Glenlyon, the farm which is to become the new garden, was managed for the benefit of its unique wildlife for decades by conservation pioneer Neil MacGregor.

"You need to think a thousand times before you just jump in and wipe something out - everything is part of one huge system, everything on God's earth has a role to play," says MacGregor.
"I have been very blessed."
Read article about the site's history
Info on the diversity of Nieuwoudtville