African Baobab Researcher Wins IPGRI Award
WEST AFRICA
11 August 2006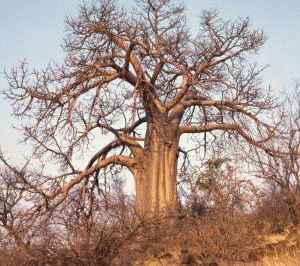 The baobab can be very useful


Achille Ephrem Assogbadjo, a 32 year old forester from Benin, is the winner of this year's Vavilov Frankel Fellowship, IPGRI's annual award for young scientists. Assogbadjo will use modern molecular tools and traditional anthropological methods to develop optimal strategies for making best use of the baobab (Adansonia digitata) in West Africa.

Baobab is a familiar tree of dryer areas of Africa, where its swollen trunk and fingered crown punctuate the savannahs. Communities use almost all parts of the tree, and individual trees are often "owned" by particular women. The tree provides food for people and their livestock, shelter, clothing, fibre, medicine and various other resources for hunting, fishing and entertainment. Export markets are also beginning to open up.

These factors combine to put pressure on existing baobab populations. Assogbadjo will use molecular methods to measure the genetic diversity of baobabs from different populations and use that information to ensure that sampling strategies maximize the biodiversity conserved on farms, in the wild and in genebanks. He will also work with local people and NGOs to evaluate a series of different baobabs to see whether they can more fully meet local needs, especially for human food. This in turn may lead to a programme of domestication and improved varieties suitable for specific areas.

The Fellowship will be carried out in Benin, Burkina-Faso, Ghana and Senegal. Assogbadjo will also travel to Belgium to work with Professor Patrick van Damme at the University of Ghent. The molecular training he receives there will improve Benin's ability to carry out this kind of work in future.

The Vavilov Frankel Fellowships programme aims to enable outstanding young scientists from developing countries to carry out research that is relevant and innovative outside of their own countries, thereby contributing to the scientists' professional development, and to the country's ability to effectively use and conserve its crop diversity. Since 2004, the Grains Research and Development Corporation (GRDC) of Australia and Pioneer Hi-Bred International Inc., United States, a DuPont company, have been supporting the fellowships.