Climate Change: Hope Amid the Crisis?
AFRICA
15 May 2006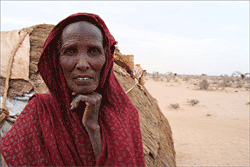 Climate change is already killing the poor

Image Christian Aid / Caroline Waterman
A new report by Christian Aid entitled "The climate of poverty: facts, fears and hope" has just been published.

Climate change is now threatening development goals for billions of the world's poorest people – with a clear danger that recent gains in reducing poverty will be thrown into reverse in coming decades.
A staggering 182 million people in sub-Saharan Africa alone could die of disease directly attributable to climate change by the end of the century. Many millions more throughout the world face death and devastation due to climate-induced floods, famine, drought and conflict.
That is the sombre message of 'The climate of poverty: facts, fears and hope', a new report from Christian Aid, which calls on the UK government to lead rich countries in taking urgent action to curb global warming.
But the report also offers the vision of a different future – a revolution in development thinking that could see poor regions using renewable energy to power a new, and clean, era of prosperity.
A switch by sub-Saharan Africa away from development based on fossil fuels to one using energy sources like solar, wind and water, for instance, would not only be better for the environment but could also result in increased jobs, better health and enhanced opportunities for learning.
For less money than it would take to pay the region's oil bill for the next decade, every household in Africa could change to clean, renewable energy, the report calculates. Developing technology could even transform the world's most impoverished continent into a net exporter of clean energy.
Sir John Houghton, former co-chair of the scientific assessment working group of the Intergovernmental Panel on Climate Change, is one of the experts backing Christian Aid's report.
'This report exposes clearly and starkly the devastating impact that human induced climate change will have on many of the world's poorest people,' says Sir John.
'That realisation exposes an inescapable moral imperative for those of us in the developed world who have benefited so much from cheap energy from fossil fuels. We need to respond with urgent and determined action.'
Christian Aid is calling on the UK government to:

institute a strict 'carbon budget' which will reduce emissions, year on year, by two thirds of 1990 levels by 2050.
lead rich countries in offering new financial support to developing countries – by way of compensation for the damage already inflicted on the environment.
help to establish and fund programmes to provide renewable energy to poor communities.
The report highlights the situation in Kenya, where climate change is fuelling violence in drought-hit areas. Pastoralists in the north of the country have started killing each other over the right to water their cattle at a diminishing number of watering holes.
It also examines the situation in Bangladesh, where a predicted rise in sea levels would leave millions displaced and dispossessed. There is, quite literally, nowhere for them to go. Already families must move every couple of years, as increased melt water from the Himalayan glaciers sweeps their land and fragile livelihoods away.
'Pestilence, floods, famine and war – an apocalyptic collection indeed. But this is what our research says that we can expect in the decades to come,' says Andrew Pendleton, climate and development analyst at Christian Aid.
'This is a grave crisis for global society and we need global solutions. We all have a role – international institutions, governments, organisations like Christian Aid and individuals,' he added.
'It is time that we truly shared the welfare of the planet – for the good of us all.'
For further details or to download the report, please go to the Christian Aid website