Campaign to Save Threatened African Tree
KENYA
13 April 2006
From Evelyne Ogutu, East African Standard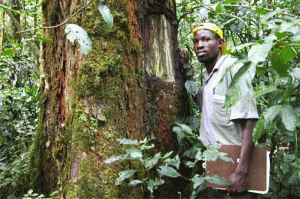 Prunus africana bark is being unsustainably harvested.
Image © P.J. Fashing
Kenya is losing tonnes of an indigenous tree species to Europe where it is used in the manufacture of a cancer drug.

As a result, conservationists in Tigoni, Kiambu, have launched a campaign to save Prunus africana, locally known as Muiri.

Tonnes of the tree's bark are exported to France and other European countries every year for the manufacture of drugs used in the treatment of prostate cancer.

The species is listed as Vulnerable by IUCN due to unsustainable levels of harvesting of its bark across Africa for the international medicinal plant trade.
African cherry bark is used to produce an extract to treat prostate gland hypertrophy and benign prostatic hyperplasia, and is currently Africa's most intensively exported medicinal plant item by volume. Researchers are conducting tests to establish at what level the tree's leaves can effectively treat the cancer, which affects men.

At Brackenhurst Highland Arboretum, a group of researchers led by Dr Mark Nicholson have planted over 600 indigenous tree species, including Muiri.

Mr Francis Githaiga, the environmental programme manager at the arboretum, said research is being carried out to establish whether the same medicine could be extracted from the tree's leaves.

"The tree has been cleared in Mt Kenya and Aberdare forests where it used to do well and now we are trying to grow seedlings so that farmers can also plant Muiri and discard exotic trees like the eucalyptus," Githaiga told The Standard.

The tree, according to Githaiga, is being unscrupulously cut down across tropical Africa for export to Europe.

Githaiga said they had planted at least 600 indigenous tree species and were planning to plant 900 species on the 150 acres of land.

"Our forestry management project has so far established tree nurseries and in two years time we expect to plant at least 900 species," said Githaiga.

The researchers are also identifying the medicinal value of various tree species and have already established a medicinal plants garden.

Githaiga said the group was doing research on the Artimisia Annua, which has been proved to cure malaria and is more effective than many antibiotics.

The plant, according to Githaiga, has been commercialised and some farmers are already cultivating it.

It is being sold to East African Botanical Company at Sh75 per kilogramme.

"Our goal is to have a living collection of at least 1,000 tree and shrub species at the end of a five-year establishment period," he said.
Peter J. Fashing's long-term study of African cherry ecology at Isecheno, is revealing that the species has experienced unusually high mortality and essentially no regeneration over the past 8 years.
Find out more about Prunus africana on the BGCI Plant Search