African Botanic Gardens Network Bulletin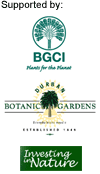 The ABGN publishes a bulletin with news on developments, activities and research from African Botanic Gardens. Currently the Bulletin is complied and edited by Durban Botanic Gardens, however the Bulletin has a revolving editorship. So if you represent an African Botanic Garden and are interested in editing an edition of the Bulletin, please contact the ABGN Secretariat.
The Bulletin is published and distributed freely by Botanic Gardens Conservation International to botanic gardens across Africa and is entirely dependent on the voluntary contributions by the staff from these institutions.
If you are interested in receiving or contributing to the Bulletin please contact BGCI at Descanso House, 199 Kew Road, Richmond Surrey TW9 3BW, UK Fax: 0044 020 8332 5956 Email: africa@bgci.org or complete the form below.

Current edition:
Click here for archived ABGN Bulletins. Adobe Acrobat Reader can be downloaded from the Adobe website.
---
If you are interested in receiving the next ABGN Bulletin, please complete the form below:
   
Find Out More
Food and Trees for Africa
The first and only national, public benefit, civil society greening and food gardening organisation in South Africa addressing climate change.