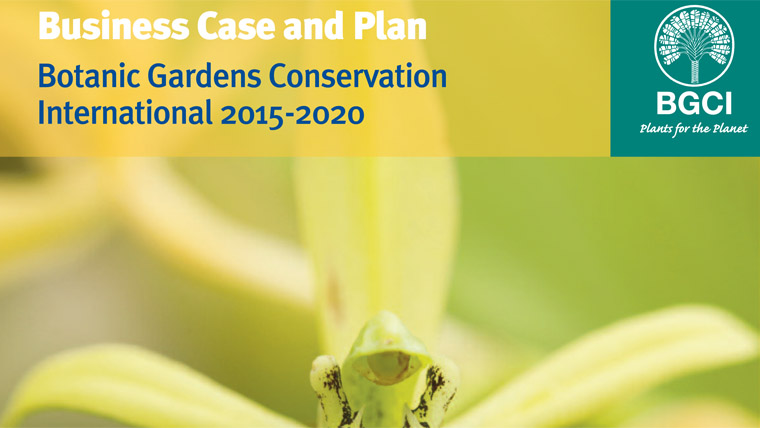 Mission and strategy
Botanic Gardens Conservation International (BGCI) is a membership organisation representing a network of 500 botanic gardens in more than 100 countries, including the largest and most influential gardens in the sector. BGCI is the largest plant conservation network in the world, and aims to collect, conserve, characterise and cultivate samples from all of the world's plants as an insurance policy against their extinction in the wild and as a source of plant material for human innovation, adaptation and resilience.
The BGCI network of botanic gardens includes: globally significant ex situ collections, covering approximately a third of known plant diversity; world class seed banks, glass houses and tissue culture infrastructures, and; technical knowledge networks covering all aspects of plant conservation policy, practice and education. BGCI is in a prime position to promote an efficient, cost-effective and rational approach to plant conservation in botanic gardens. As outlined in BGCI's Business Case and Plan (2015-2020), we do this in four ways by:
Leading and advocacy. We provide leadership for the botanic garden sector, promoting the role of botanic gardens to policymakers and funders in delivering the Global Strategy for Plant Conservation.
Leading innovative and strategic projects achieving outcomes in plant conservation policy, practice and education. BGCI leads projects and networks delivering Global Strategy for Plant Conservation targets in red listing (Target 2), seed conservation (Targets 8 & 9), ecological restoration (Targets 4 & 8), plant health and biosecurity (Target 10), ecosystem services and livelihoods (Targets 12 & 13) and education (Target 14).
Co-ordinating efforts and building plant conservation capacity in botanic gardens and broader society. We build technical capacity in the botanic garden sector and beyond by acting as a knowledge hub and a clearing house for best practice, training, resources and expertise (Targets 3 and 15).
Providing funding. We mobilise funding to deliver plant conservation projects and outcomes in the botanic garden community and wider society.
Our vision is a world in which plant diversity is valued, secure and supporting all life. To create this world our mission is:
"To mobilise botanic gardens and engage partners in securing plant diversity for the well-being of people and the planet".
Download our Business Case & Plan 2015-2020 here